Now that the end of Summer is approaching, Cowles Library is here to help you break back into "school mode" gradually! We're doing this by starting a series of posts designed to let you know about some of the "new" and "undiscovered" valuable resources and services available to you if you are a Drake student, faculty member, or staff.
Our second resource is an important one: Cowles has provided access to the Chronicle of Higher Education (and its sister publication, Chronicle of Philanthropy) to all Drake employees and students for a number of years. Based in Washington, D.C., The Chronicle has more than 70 writers, editors, and international correspondents. Online, The Chronicle is published every weekday and is a top destination for news, advice, and jobs for people in academe.
If you already have an account, simply follow this link: Chronicle Web page. If you don't have an account, follow the instructions below:
Unlike most of the Library's resources, in order to take advantage of the Chronicle, you must complete a "one-time" registration process. It's pretty simple, but it requires your Drake email account. Instructions follow:
1) First, go to: http://chronicle.com/myaccount/createfreeaccount/
You should see a screen similar to the following: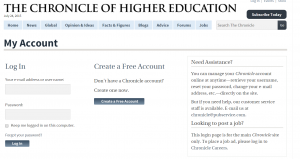 2) Click on "Create a Free Account"
3) You'll be prompted to enter your Drake email. Once you've entered that, click on "Continue."
4) Almost done! You must enter first name, last name, username/password, state/country, position, and age (if you don't want to enter your "real" age, don't worry, just pick something greater than 13). You may also choose to get "newsletters" from the Chronicle, if you want.
5) Check the box saying you agree to their licensing conditions, and click on "Create Free Account."
6) You'll get an email with the subject of "Chronicle: Confirm New Account" in your Drake email account; click on the link in that email, and you'll be ready to login! You can click "remember me on this computer" if you're using a private computer, so you don't have to login every day.
We hope you find this useful! Contact reference@drake.edu with any questions.
---
Previous Resources and Services announcements:
1) New York Times Digital Subscription
---
Next Resources and Services announcement:
1) Oxford Very Short Introductions
---