This is the third in a series of "Resources and Services" posts from the Faculty of Cowles Library, intended to increase awareness of the quality resources and services (many of them new!) available to Drake students, faculty, and staff. Earlier posts are listed at the bottom of this page.
---
Oxford Very Short Introductions
Very Short Introductions consist of 435 short books on a wide range of subject areas written by scholars in the field.  Each book is around 100 pages long, with a brief bibliography for further reading.   There is full-text access to every book included in the database.   (In addition to the online version of these books, the library currently has 84 of these Very Short Introductions available as print books.)
Each book attempts to provide a balanced view of the development of the topic over time and the reasons for its cultural, historical or scientific significance.  Among  the many  topics covered are; American Immigration, Animal Rights, Autism,  Climate Change, Dinosaurs, Dreaming, Evolution, Gandhi, Islam, Globalization, Microbiology, Modern China, and the Meaning of Life.
One can either browse the selection of topics covered within any of the 54 subject areas or else search for a topic across the entire set.  The results will be sorted by relevance, but can also be sorted alphabetically by title or by publication year. You may download or print these titles on a chapter-by-chapter basis.   All of the results are accessible in full-text.
Visit Very Short Introductions!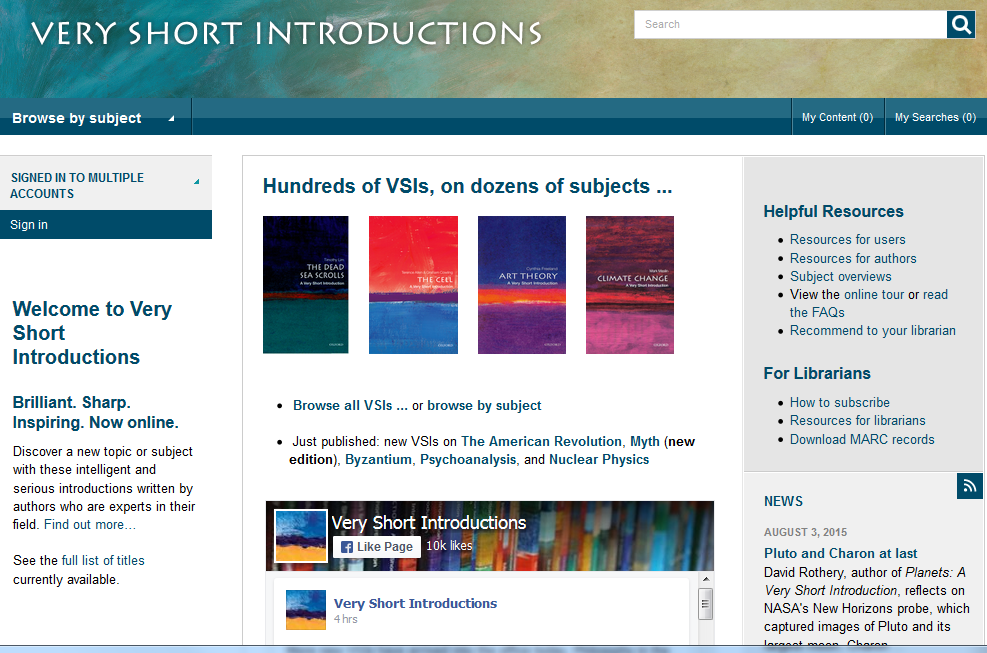 ---
Previous Resources and Services announcements:
1) New York Times Digital Subscription
2) Chronicle of Higher Education
---