This is the tenth in a series of "Resources and Services" posts from the Faculty of Cowles Library, intended to increase awareness of the quality resources and services (many of them new!) available to Drake students, faculty, and staff. Earlier posts are listed at the bottom of this page.
---
Cowles Library now offers direct access to ALL Springer journals and tens of thousand of Springer ebooks, with no special software required! Details follow:
I.  Springer ebooks
Access: https://library.drake.edu/find/article-databases/goto/springer-ebook-2010-2016-collections
Over 35,000 titles
2010-2016 (with thousands more titles being added this year)
Many titles in Computer science, Biomedical, Life Sciences, Mathematics
New! Humanities, History, Social Science & Law content this year!
No DRM (digital rights management)
No software requirements; can be downloaded as a PDF
Unlimited printing/downloading
Can purchase a print copy for $24.95 for most books (if so desired)
To see the full list of titles go to this site: http://tinyurl.com/zgmzhus
The first worksheet shows ALL titles in the collection.
Subsequent worksheets show titles available in each collection, sorted by subject.
Interested in any particular title you see on the list?  Just copy & paste the url in "open url" column into your web browser!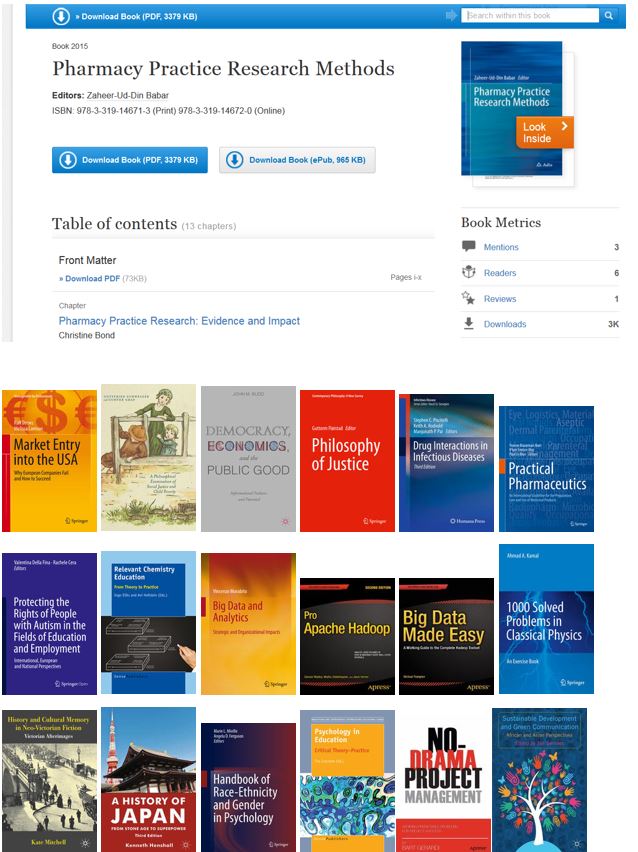 ---
II. Springer journals
We've added online access to 2,000+ Springer journals from 1997 to present! https://library.drake.edu/find/article-databases/goto/springer-journals
See below for links to journals in specific disciplines:
By joining a new library consortium we were able to provide access to these journals for less than $3 per title per year.  With a few exceptions, we now have access to ALL Springer journals.
In 2015 over 500 Drake users attempted to access 16 Springer journal titles (such as Journal of Insect Behavior, as well as Advances in Therapy) and were denied access.  These journals are all now directly available to Cowles patrons, wherever they have an Internet connection!
---
Previous Resources and Services announcements:
1) New York Times Digital Subscription
2) Chronicle of Higher Education
3) Oxford Very Short Introductions
4) Vogue and Women's Wear Daily
5) Business Expert Press
6) Statista – Statistics for the Rest of Us
7) Bibliography of Native North Americans
8) JoVE Biology (and JoVE Neuroscience)
9) Filmakers' Library Online