Drake University's Cowles Library is pleased to announce that we now provide access to the
majority of content on Elsesvier's ScienceDirect platform. This includes journals, as well as
books. Elsevier offers high-quality, peer-reviewed and highly-cited content in the life sciences,
physical sciences, health sciences, and social sciences.
Access here: https://library.drake.edu/find/article-databases/goto/sciencedirect/
To make sure you see content to which we subscribe, click on the "Access type: Subscribed and
complimentary." You can also limit your search to journals, books, handbooks, reference
works, and/or book series.
Drake University now has access from 1995-present for a majority of the journal titles hosted
on Elsevier's ScienceDirect platform (called: Freedom Collection 2018).  The only titles that are
excluded from our agreement are the third-party titles they are not allowed to license (Lancet,
Neuron, American Journal of Medicine, etc.).  Many of the third-party titles will still be available
to patrons via Get-It-Now (Document Delivery).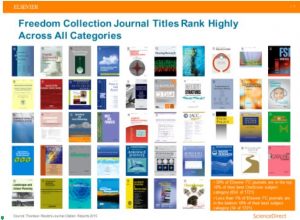 In addition, we now have access to all book content on Elsevier's ScienceDirect platform, called the "All-Access" collection.  This collection includes books, book series, encyclopedias, handbooks, and major reference works. See below.