Since I returned from Munich only on Monday evening last week (3/6), I was already down a workday. In addition, Cousin Jim was due to arrive on Thursday evening for a brief visit with me. Now, I had known that he was coming and I had been looking forward to seeing him. This was his first visit to Europe and he was taking advantage of my presence here to see that he didn't get lost. The three days before his arrival flew by and, because I felt that I had been keeping my nose fairly close to the grindstone, I was not feeling the least twinge of guilt about taking Friday and part of Monday off so I could show him around.
His visit also gave me the opportunity to get a bit more familiar with Hamburg. Although I had taken the bus tour of the town, I hadn't veered too far from my day-to-day route or routine. When Jim arrived, we immediately set off for a jazz club that I had found online. Jim likes music and he was looking forward to hearing some. Despite the usual fatigue generated by trans-Atlantic air travel, Jim insisted on scoping out Birdland Club. It was more of a hike than either of us anticipated, but we found it, tucked into a too cozy cellar on a main thoroughfare about a mile from my apartment. We ran the gauntlet of young smokers puffing their carcinogens on the stairway and entered a low ceilinged space with wall to wall bodies. The music hadn't started yet and the crowd was overwhelming. Disappointed, we retreated to the street and wandered our way back home. Jet lag had finally hit and Cousin Jim collapsed into bed the minute we got home.
The next morning, we ate breakfast in a rather upscale hotel just down the street. Elysée Palace (SO pretentious!) has it all for those who have it all. Spa, health club, four restaurants, a shoe and clothing store (just in case you left your Guccis at home), and lots of other amenities. Despite this, they served a nice breakfast and a good cup of coffee at a reasonable price. Thus fortified, we set out to walk the city, across the Kennedy Bridge, which divides the Outer Alster Lake from the Inner Alster Lake, and into downtown. Having seen much of this part of Hamburg from the tour bus, I was able to point out some of the sights. We walked down to the harbor and saw an area that has recently been rehabilitated. Lots of old brick warehouses turned into office flats and apartments. It was easy to get lost, but people were helpful in pointing us in the direction of landmarks—like the grand Gothic City Hall—so we could get our bearings again. We had a couple of beers along the way and a late lunch at home. That evening, we decided to try the bar in the fancy hotel and, to our delight, they had live music. A jazz trio, composed of three guys in their eighties at least, was doing a fabulous job with the standards and we spent a pleasant couple of hours listening.
On Saturday, I had arranged train tickets to Lübeck. Lübeck is a well-preserved town that dates back a millennium or so. It was one of the original members of the Hanseatic League, that medieval precursor to the European Community. The old town is surrounded by twin moats and boasts the requisite monumental city gates and tilting 500 year old buildings, centuries old churches and cobbled streets. It was cold when we set out but Jim had brought the sun with him to northern Europe and by noon the sidewalk bars and cafes were filled with people enjoying themselves.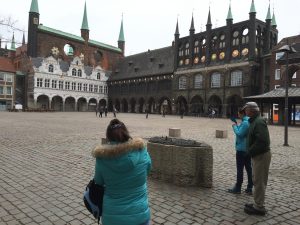 Earlier on, we had noticed what looked to be a concert cranking up in a park near one of the city gates. We paid only casual attention to this, but the crowd continued to grow and by the time we stopped for a noontime beer, a substantial crowd had formed, complete with banners bearing the logos of the SPD (the German Socialist Party), a drum and brass ensemble, people in 19th century costume, and other political signs and flags. The biggest surprise: pussy hats! Many, many pussy hats! Okay, so they weren't true pink—more magenta, or maybe fuchsia—but the form was the same and so was the message. Probably the best American export in decades.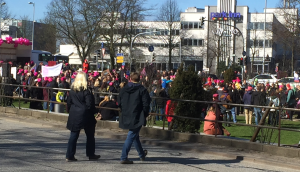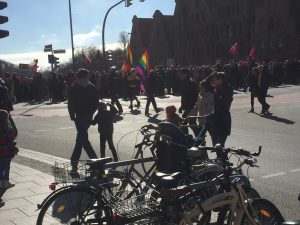 After the parade passed us by, we had lunch and one more beer before we boarded the train for the return to Hamburg. We ended the day in our now favorite hotel for dinner and another evening of music by a different jazz trio composed of even older white guys.
Sunday was a bit of a rest day; we scouted out a part of my neighborhood that I had not yet had a chance to explore and found a couple of gems. One bar that could become a local for me on those Fridays when I can't stand another minute of the inside of the office and the lure of the apartment is weak. There was also a nice Italian restaurant that has the perfect combination of atmosphere and food that warrants return visits.
All this was a most welcome respite to my existence here. Jim got to see a bit of Europe and I got to speak something other than German for a few days. Not that I mind speaking German; I need to do more of it so my ability improves. I'm a long way from fluent, but a steady diet of newspaper, radio, tv, and conversations with Germans is moving things along.