It's amazing. Really. Really, really amazing. I'm on my first research trip since arriving in Hamburg and I continue to marvel at what one can do while one is getting from one place to another in Europe. This trip underscores that sense, yet again.
At present, I'm sitting in a very comfortable train car, well-lighted, large windows, quiet and with more space than airline coach seats. We are whipping through western Germany in pitch dark at more than 200 km per hour and I'm composing an entry to the blog—which I COULD upload directly to Cowles Library's web page, if I chose to do so. The trip from Hamburg to Strasbourg is almost exactly five hours in each direction and at 125-130 MPH, that means about 500-600 miles covered. Beats driving that distance in a day. And did I mention that all the fast trains (ICE-the Intercity expresses) have FREE WiFi? Meanwhile, we think self-driving cars are the way of the future. Well, we'll see…
Anyway, Strasbourg is in Alsace, one of those areas of Europe that has been fought over like a bone for centuries. One minute it's French, the next it's German. Now it's French again. Lots of French and German place names mixed in together. The city is rather small (pop. ca. 280,000) but bustling. The old town is situated on an island in the middle of the Ill River. It's not much of a river, more like the Des Moines or the Raccoon than the Mississippi. It meanders a bit but is contained nowadays by concrete and stone walls and buckled in place by numerous bridges which connect the island to the newer parts of town. To the east, it feeds into the Rhine. The city is perhaps best known for its påte de foie gras, the cooked, macerated livers of overfed geese. Right up there with caviar as one of those foods that we all know about but can't afford. I didn't see to many geese; maybe they've all given their livers, or maybe they were in hiding.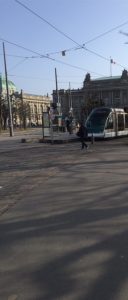 The buildings are grand and solid; the streets are a mix of narrow and crooked and wide and fairly straight. The city is also home to the European Parliament, which sits on a site a bit closer to the edge of town toward the Rhine. Also on the east, just off the island, are a number of stately public buildings surrounding a large green area: the Place de la Republique. It's there that I found the National and University Library Strasbourg and the object of my visit, a single example of Arabic block printing that needed to be examined. The library has 3 million volumes and is, according to Daniel Bourneman, who is the Director of Special Collections and my shepherd during my visit, the second largest library In France. Their archives are awesome in terms of storage: state of the art environmental conditions, security, and display and study facilities. Built in 1895, the interior of the building was completely modernized in 2012. When I visited today, students and other readers were already lined up in the morning chill waiting for the 10 AM opening.
I didn't have a lot of time to explore, but I got a sense of the place and its rhythms. On Sunday evening, for example, after arriving at around four in the afternoon and settling in to my hotel room, I wandered out to see how far it was to the library. (I had only a two-hour window to study the block print and wanted to be on time for my appointment.) Having done that, and discovering that it was a fifteen-minute walk door to door, I went looking for a restaurant so I could eat dinner. I headed back toward the train station since I had seen a number of possibilities near there. To my surprise, virtually all of them were closed. My first thought was that it was Sunday so of course they'd be closed. On the point of desperation—I hadn't had more than a cup of coffee since breakfast—I went into the first place that was open. The young woman who greeted me from behind the bar asked if I wanted something to drink. In my awful French I said no, I was hungry and wanted to eat something. Sorry, she replied. The kitchen is closed. My stomach growled. But, she continued, it opens at 6:30, so you can dine then. Relieved, I decided to have a glass of wine and warm up, glad that I might come back in an hour and a half or so and fuel up. When I did return later, lo and behold, there were restaurants open everywhere! So another cultural lesson learned. And able to sleep on a full stomach.