This is the fifth in a series of "Resources and Services" posts from the Faculty of Cowles Library, intended to increase awareness of the quality resources and services (many of them new!) available to Drake students, faculty, and staff. Earlier posts are listed at the bottom of this page.
---
Cowles Library is excited to announce the addition of a new Business ebook collection: Business Expert Press (BEP)!
Business Expert Press (BEP) includes over 300 ebooks that meet the needs of business stu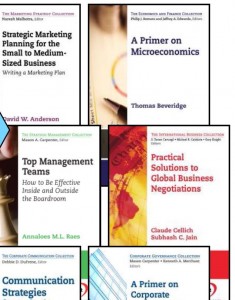 dents who want concise and practical course readings and reference works. All ebooks offer:
No DRM (Digital Rights Management)
Downloadable PDFs
Unlimited users
Examples of topics include:
Marketing and Management
Economic, Financial, Legal & Analytical aspects of Business
Information Systems
Business Ethics
Check out Business Expert Press!
---
Previous Resources and Services announcements:
1) New York Times Digital Subscription
2) Chronicle of Higher Education
3) Oxford Very Short Introductions
4) Vogue and Women's Wear Daily